It was all Roger Federer and Rafael Nadal on the ATP tour before the Serbian tennis star, Novak Djokovic, arrived on the scene. Since then, the Wimbledon champion has been consistently outshining his opponents, showing no signs of wearing down anytime soon. However, even the greatest athletes suffer the results of aging, like increased levels of exhaustion.
Notably, Djokovic was recently spotted gasping and trembling during a break between sets in his match against Daniil Medvedev. The 21-time singles Grand Slam champion further gave a potential retirement hint during the post-match press conference. However, Djokovic's wife was unimpressed with her husband's potential retirement hint. She further reacted to her husband's statement during the post-match conference.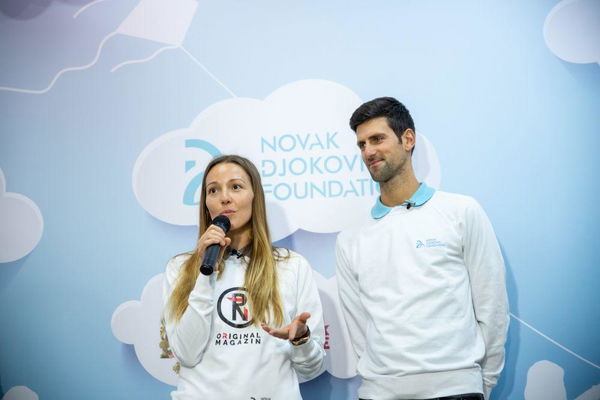 Jelena on her husband, Novak Djokovic's potential retirement
The Serbian tennis player has reached the Nitto ATP Finals without suffering a defeat in the round-robin stage. Notably, Novak Djokovic, in a thrilling group stage match, defeated the Russian star, Daniil Medvedev. However, during his match, Djokovic gave his fans a scare when he was seen gasping in his chair. Djokovic later clarified his health concerns, stating that it was "just overall physical exhaustion" from an intense match.
Additionally, the 21-time singles Grand Slam champion talked about defeating top players on the ATP tour, at the twilight stage of his career. Jelena Djokovic also took note of her husband's statement and she reacted on social media. She said, "This man. Ovaj čovek… ❤️💪🫣 #nolefam you are welcome for the 📸😜😘🥰 ALL IN. Love how he said at the post match interview that "at this point of his career" every match is golden. Especially after not playing much this year, every match counts."
Jelena further pointed towards Djokovic's twilight stage of his journey as she said that her husband wouldn't be going anywhere. She stated, "But honey (pun intended) – what stage of your career? 🤣 you ain't going nowhere as long as I'm #NoleFam @djokernole 😊😊😊"
Djokovic's performance at the Nitto ATP Finals
Some of the most promising and talented players on the ATP Tour have participated in the Nitto ATP Finals. Notably, the Serbian tennis star has outshined them with his dominating performances as he reached the finals of the event. Djokovic started the tournament brilliantly as he defeated the Greek player Stefanos Tsitsipas.
Following that, he went on to beat the Russian stars, Andrey Rublev and Daniil Medvedev, in the round-robin matches. After qualifying for the semifinal, Djokovic, with another incredible performance, beat the American tennis star Taylor Fritz in the semifinal. Djokovic will now compete with the Norwegian tennis player Casper Ruud in the championship match.
Who are you backing to life the ATP Finals trophy in Turin? Let us know in the comments.