What happened to Mickelson's family in the run-up to the 2010 Masters?
Mickelson had already won the Green Jacket twice in his career, so what was so special about the third one? His budding family was there, as in every other event, but it was on dire occasions.
Lefty's wife, Amy Mickelson, was diagnosed with cancer in 2009. A few months later, Mickelson's mother suffered the same fate. Under challenging circumstances, the 6-time Major Championship winner took limited breaks to take care of the family but contested in tournaments whenever possible.
11 months after first identifying the disease, Amy was able to join her husband at the Augusta National Golf Club alongside her children. For golf fans who were accustomed to seeing Amy accompanying Phil, it was a glorious moment.
Why did Phil Mickelson break down after his 2010 Masters win?
Arriving at the tournament in good form, Mickelson had extra motivation to play for. He had suffered heartbreaks without Amy by her side, most significantly the loss at the 2009 US Open final to Lucas Glover after choking in the final round. The title remains the only missing jewel from Mickelson's cabinet – the final piece of a career Grand Slam.
Mickelson left no stone unturned, keeping his scores low across the weekend to secure victory by a margin of three strokes. He crossed 70 only once and shot a whirlwind 67 on a difficult final day to script an emotional victory.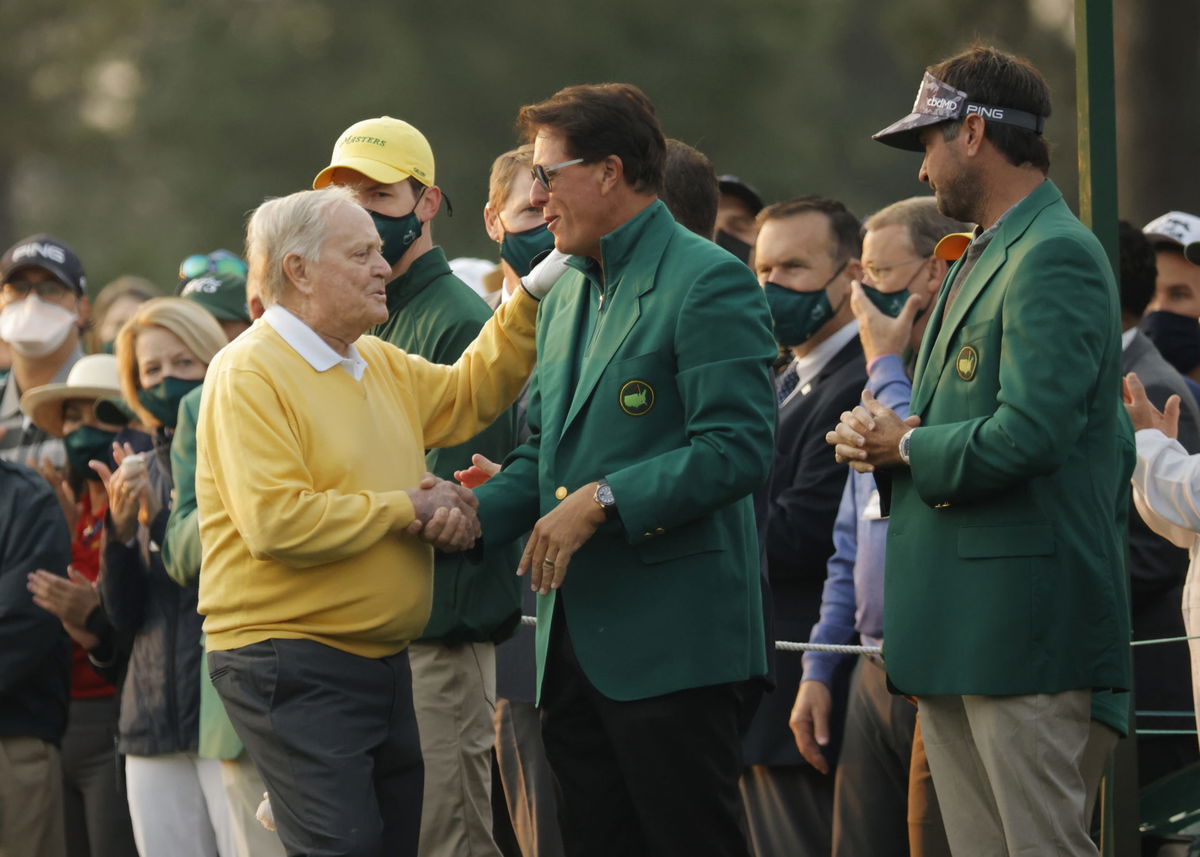 Golf – The Masters – Augusta National Golf Club – Augusta, Georgia, U.S. – April 8, 2021 Honorary starter Jack Nicklaus of the U.S. with Bubba Watson and Phil Mickelson before the ceremonial start on the first day of play REUTERS/Brian Snyder
In the end, it was just too much to contain for the father of three. "It's been tough. It's been tough," Mickelson said repeatedly, before providing an update on her wife. "As I've said, we are fortunate long term, but the meds that she has been taking have made it very difficult, and she didn't feel well."
In the end, it was just too much to contain for the father of three. "It's been tough. It's been tough," Mickelson said repeatedly, before providing an update on her wife. "As I've said, we are fortunate long term, but the meds that she has been taking have made it very difficult, and she didn't feel well."
"To walk off the green and have her here to share this moment and share the joy of winning on 18 and to share this with my kids is something we'll look back on the rest of our lives," he continued. "This means so much to us, the jubilation. It's very emotional. I don't usually shed tears over wins."